The 2023 Lyriq is a Sleek Cadillac Electric SUV

Cadillac's First EV Is Making Waves
It's hard to say if the world is ready for the brand new 2023 Lyriq. Learn all about this Cadillac electric SUV at the Jeff Schmitt Auto Group.
With practically every auto manufacturer getting into the electric vehicle game, it was only a matter of time before the luxury brand Cadillac joined the fun. As its first entry into the EV market, Cadillac is releasing the 2023 Lyriq, a sleek and powerful Cadillac electric SUV.
This ride may not be shooting to break performance records, but it will certainly impress everyone who comes in contact with it. It has the clean and sleek look you expect from America's top luxury car maker. Of course, Cadillac threw in some futuristic style to make sure this electric SUV really stands out from the crowd.
Impressive Electric Performance
The new Cadillac Lyriq for sale comes equipped with a 100-kW battery back and a single electric motor on the rear axle. Together you'll enjoy 340 horsepower and up to 312 miles of electric driving range. Those who want a little more from their Cadillac electric SUV can opt for a dual motor setup that should produce around 500 hp.
The Comfort You Expect from a Cadillac
Cadillac didn't hold anything back when it designed the Lyriq's interior. You'll love the open-pore wood on the door panels and center console that compliments the bright blue leather upholstery.
Thanks to the Lyriq's electric motor and advanced noise canceling technology, the cabin is practically silent at any speed. That means you'll enjoy comfort for your body and your ears when you're cruising down the highway.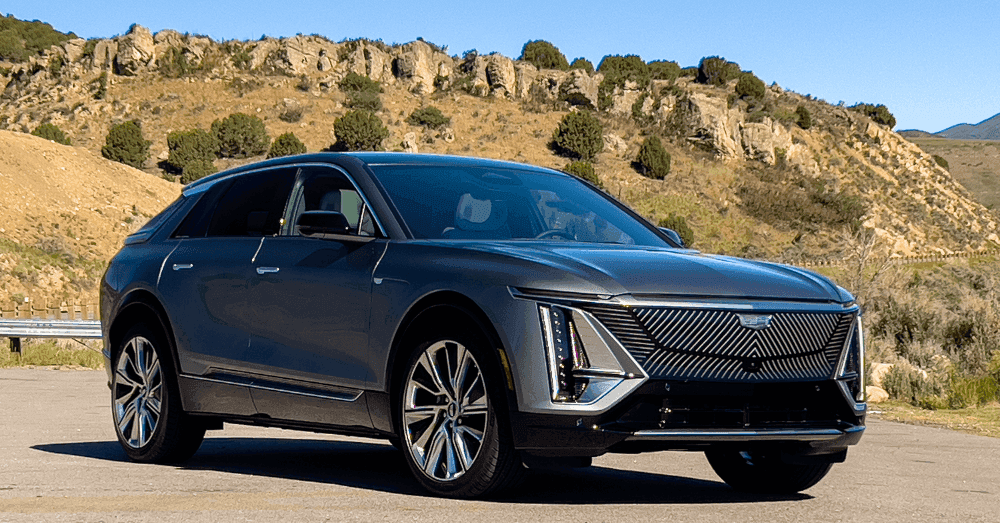 Feast Your Eyes On This Tech
You won't believe your eyes the first time you get a gaze at the 33.-inch curved advanced LED touchscreen that makes up the bulk of your dashboard. This system is both your gauge cluster and infotainment center. If you aren't a fan of touchscreens, you can easily control this system via the click wheel on the center console.
The Lyriq is loaded with features like Apple CarPlay, Android Auto, and a built-in 4GE LTE Wi-Fi hotspot. Break the silence of your quiet cabin with the advanced 19-speaker AKG sound system that was built to impress.
It's Time To Super Cruise
There's no question that this Cadillac electric SUV is one of the safest rides on the road. It comes equipped with driver-assist features like automated emergency braking, pedestrian detection, lane-departure warning, and adaptive cruise control.
The new Super Cruise feature is the one everyone has been waiting for. This semi-autonomous driving system can take over for you on Cadillac's extensive pre-mapped roads. That means you can sit back, relax, and enjoy the comfort you can only find in the new 2023 Lyric, the first Cadillac electric SUV to hit the road and hopefully not the last.